Discover more from Tusk Is Better Than Rumours
primers and album rankings of experimental musicians. all rankings guaranteed definitive and all opinions guaranteed correct.
guest writer: sam tornow on mark mothersbaugh
"We're through being cool. Eliminate the ninnies and the twits." - Devo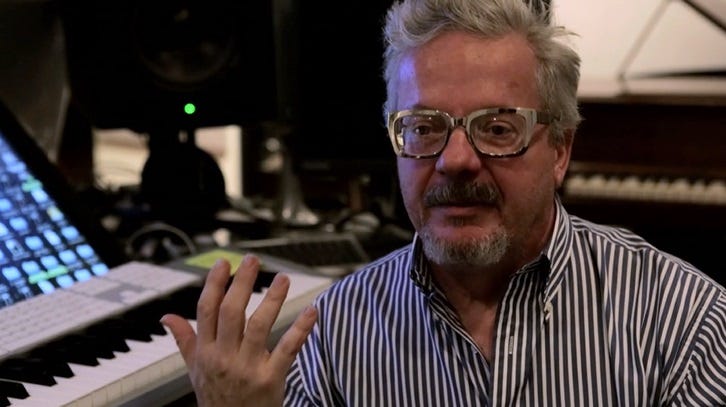 welcome to issue #32 of "tusk is better than rumours," a newsletter featuring primers and album rankings of experimental and 'outsider' musicians. artist primers are published every other monday, and on off-weeks i publish a variety of articles ranging from label and genre primers to interviews to guest writers.
this week we're happy to have guest writer sam tornow, who writes his own great experimental music newsletter violet noise and contributes to bandcamp daily and tone glow. in the past, tornow has also written for tiny mix tapes (rip), billboard, stereogum, and others. here he provides a rollicking overview of mark mothersbaugh's music from Devo to The Sims, with a plethora of bizarre YouTube clips from each phase of his career.
sign up to receive the newsletter if you haven't already! and follow us on twitter @tuskisbetter! and tell a friend! also you can reply to these emails or write to tuskisbetter@gmail.com.
---
You've probably heard Mark Mothersbaugh's music, whether you know it or not. Maybe you've heard it through his revolutionary work as the front man of Devo, or maybe you've seen the mildly disturbing cartoon Rugrats, or the indie film Thor: Ragnarok? Since the late '70s, Mothersbaugh has been carving out a unique place in musical history for himself, one where his love of eccentric sounds and critical commentary intersect with commercial composition. 
Mothersbaugh's creative life began at the age of seven with his first pair of glasses. For the first years of his life, he wandered around legally blind, often getting him in trouble at school. The day after getting glasses, he drew a tree, inspired by the fact that he could see them now, and the teacher, who frequently used corporeal punishment on him, told him that his tree looked better than anything she could ever draw. That night, he had a dream of becoming an artist. 
Music caught his interest later, though. Growing up, he despised music, tortured weekly by the organ lessons his parents put him through. That is until age 12, when The Beatles took the stage on The Ed Sullivan Show. Inspired by the performance, he spent the next few years playing in Top 40 cover bands with friends, eventually stumbling into the world of experimental music by the time he hit college. 
He attended Kent State University in North East Ohio, not far from where he grew up in the rubber capital of the world, Akron, and took interest in screen printing, often happily spending his nights alone in the lab. He began taking his prints and sticking them in water, then leaving outlines of his work around campus.  
Then, on May 4, 1970, during his sophomore year, The National Guard marched onto the Kent State campus and shot into a crowd of protesters, killing four and injuring nine. The shooting fueled Motherbaugh's thoughts about the world and provided him and the members of the newly formed Devo with conceptual ammo. As Mothersbaugh told Chris Garcia at the Computer History Museum:
One of the other guys that I went to school with, we started writing music together and we were trying to determine what it was that we had just seen happen, and what was going on in our world with the Vietnam War, shootings at our school, killings at our school, and decided that what we were observing was not evolution, but rather de-evolution. So we wrote music to that effect, too. As the good musical reporters that we were, and enthusiasts of agitprop, and wanted to be part of that.
---
Devo
Beginnings and Q: Are we not men? A: No! We are Devo (1978)
Taking their name from a shortening of the word "de-evolution," the group, made up of Mothersbaugh, his brother Bob, Gerald Casale, his brother Bob, and Alan Myers, was destined for cultural and political commentary from the start. In the early days, the members of Devo often regarded the group and its music as a vehicle for its satirical messaging. "Early on, we didn't think we were a rock band," Mothersbaugh says in Pitchfork's "Music That Made Them" series. "We thought we were an art movement."
Even before the group's first record came out, Devo's art rock antics grabbed the attention of notable musical cool guys Brian Eno (who produced the debut record), Robert Fripp, and David Bowie. Eno went on to play a huge role in the recording process, paying out of pocket to fly the band to recording sessions and working to get the group signed to Warner. 
Devo's debut, Q: Are we not men? A: No! We are Devo is the group's most unhinged and critically successful work. The record kicks off with the angsty "Uncontrollable Urge," which furiously drives on into a jangly cover of The Rolling Stones' single, "Satisfaction." Then, it all breaks down and warps around with "Jocko Homo," Devo's mission statement. A wonky drum and guitar pair bumble around like a clumsy giant while Mothersbaugh poses the famous question: Are we not men? We are Devo!
While promoting Q: Are we not men, the group were offered the chance to play the newly blooming sketch series Saturday Night Live. A band like Devo couldn't get away with just playing the hits, though. Only a week after The Rolling Stones made their debut on the show, Devo, dressed in yellow hazmat suits and sunglasses, and wielding taped up instruments, played their noisy rendition of The Stone's most popular song at the time, "Satisfaction." Allegedly, Lorne Michaels, the showrunner of SNL, approached Mothersbaugh moments before the performance and claimed, "you're about to play for 20 million people." It's not difficult to speculate that Michaels was really the nervous one, not the band. 
Freedom of Choice (1980)
Freedom of Choice is the band's third and most commercially successful record. It largely builds on the foundation of Are We Not Men and its follow up, Duty Now For The Future, but extends into more commercial territory while still retaining the cheeky messaging the band was known for at the time. By now, the group sounded closer to a mutant love child of Kraftwerk and The Talking Heads rather than the fuzzy, experimental rock group they started out as in Kent, Ohio. 
The record features one of the greatest runs of songs in new wave music. The first seven tracks, "Girl U Want," "It's Not Right," "Whip It," "Snow Ball," "Ton O' Luv," "Freedom of Choice," and "Gates of Steel," are all tracks that deserve to be on greatest hits records. Each song toes the beautiful line of catchy, humorous, and cynically intelligent. FoC's cover also marks the beginning of the famous energy dome helmet, something the band and Mothersbaugh are associated with to this day. 
Frustrated by a conservative, regressive political climate, the band penned songs like "Freedom of Choice" and "Whip It" that took the cowboy fetishism of the time to another level. "Whip It" quickly became a point of creative frustration for Mothersbaugh. While Warner made money on each Devo record, it made much more from "Whip It," and was expecting a similar follow-up. Suddenly, studio execs would drop by the studio to see how things were going, putting additional pressure on the band. During the group's time at Warner, they gave away most of their royalty shares to maintain creative control over merchandise, videos, and music, so for the label to overstep that boundary was suffocating.
Oh No! It's Devo (1982)
Oh No! It's Devo was a pivotal point for the group, and for many, the last great record of the band's initial studio albums on Warner (some fans will say it's Shout, but we don't talk about that). Beginning to rely more heavily on elements of synth-pop, the band hadn't fully crossed over to its post-hiatus albums that followed. For Oh No! the group ditched the energy domes in favor of black t-shirts with white spud ring collars. The sound of the record is a response to early critics of the band (like Rolling Stone) who called them fascists and clowns, so the group tried to emulate what it believed fascist clowns sounded like. 
Perhaps the song that best represents the whole intersection of ideas on Oh No! is "Peek a boo": the synths blast anthemically, overshadowing the guitars — an instrumentation choice that the band sticks with to this day — while Mark manically laughs like a Big Brother figure during the chorus. It's catchy and uncomfortable, an attempt to manifest a "hit," and a revolt against critical consensus. Even the record's name comes from a place of discomfort, as it refers to what listeners say when they hear that a band has put out their fifth and sixth albums, past their prime. 
After Oh No! And Shout the group fell out with Warner and switched over to Restless Records, which tanked shortly after the group signed, prompting the beginning of a hiatus and closing of the first chapter of the band. 
Solo 
Pee Wee's Playhouse (1986)
While Devo was on hiatus, Mothersbaugh finally had the time to work on other projects, one of which was a scoring opportunity presented by a friend. In an oral history video by The Computer History Museum, he sums up the gig, which ultimately kick-started the second wave of his career:
Before [Devo's hiatus], I had done five albums, where you write 12 songs, you rehearse them, you go record them, you start playing them for a tour, you design costumes and a stage show. Then, you come back and write 12 more songs … Well, a friend of mine, in 1984ish … said to me, 'Mark, would you score my TV show? It's called Pee Wee's Playhouse.' And, I said, "Yeah, I've got time right now, we're kind of locked in a lawsuit.' He sent me a tape on a Monday, on Tuesday I wrote 12 songs worth of music, on Wednesday I recorded it, on Thursday, I took the tape, a 2.5-inch tape and sent it to New York where he was editing his show, Friday they cut it into the show, Saturday it was on TV. We watched Pee Wee's Playhouse in the morning. Monday, he sent me another tape, and Tuesday I wrote 12 more songs. I was like sign me up for this job. I love this. It was all about the creative process, it was all about writing more songs.
Hawaiian Punch Ad (1987)
Around the same time as Pee Wee's Playhouse, Mothersbaugh also started scoring  commercials. His most notable work is a Hawaiian Punch ad from 1987, which features beautiful blocky '80s CGI graphics and unsettling dancing robots with radios for heads. During an interview on WTF with Marc Maron, Mothersbaugh admits that while making commercials, he would slip subliminal messages into his music for fun. Personally, I can't hear it, but under a section of the music he says "sugar is bad for you."
Muzik For Insominaks 1 & 2 (1988) 
Post-Devo, in addition to this occasional scoring work, Mothersbaugh spent time producing and writing songs for other artists. During that period, he released his first solo record, Musik for Insomniaks, an understated take on minimalism and ambient music. For Muzik, Mothersbaugh primarily used the Fairlight CMI, an early synthesizer/sampler/DAW, which has an easily identifiable, almost MIDI sound, which Mothersbaugh would replicate for most of his career. Just one year after Devo released its EZ Listening Disc, a collection of muzak versions of Devo tracks, Muzik runs with the same vibe. The liner notes of the record also make it clear what  Mothersbaugh's intentions were:
Please play at a low volume. Muzik for Insomniaks is designed to interface with your world. These recordings incorporate discrete true stereo, so check the stereo balance of your system for the optimum listening situation... Or listen to one channel at a time for double your pleasure.
Mutato Muzika (1989)
In time, Mark's foray into scoring led him to create Mutato Muzika, an LA-based full-service music production company, which has been the vehicle for his prolific scoring years. The building itself, right on the Sunset Strip, has become a point of interest due to its fittingly strange circular shape and bright greenish-yellow paint job. Within its walls, Mothersbaugh keeps a massive collection of circuit bent machines, noise-makers, famous instruments from the likes of Pink Floyd (which he saved from a dumpster) and Bob Moog's Memorymoog (which Bob gave to Mark to stop him from calling about the completion date of a theremin) and rooms full of synths, guitars, and pedals. 
From Mutato Muzika, Mothersbaugh has contributed music to some major films, video games and TV shows, including (but certainly not limited to):
The Crash Bandicoot Series

The Simpsons Game

The Jak and Daxter Series

The Regular Show

Dumb and Dumber

Bottle Rocket

Nick & Norah's Infinite Playlist

The Life Aquatic with Steve Zissou
Rugrats (1991)
Rugrats played a pivotal role in Mothersbaugh's career due to the show's incredible success. In the lead-up to the airing of Rugrats, the showrunners approached Mark, asking him to use Muzik for Insomniaks as the show's background music. Mark refused the offer and instead took a job as the show's music director. The sound of Rugrats is very much the sound of Muzik for Insomniacs. Easy-listening synth clips and synthesizer vowel sounds make up simple, memorable melodies in what has become one of Mothersbaugh's most iconic scores. He also composed music for the show's commercials, leading to this quirky track about how he owns a bunch of "Rugrats stuff." He was also the visual inspiration for the character Chucky.
The Sims 2 (2004)
In terms of listenership, The Sims 2 might be Mothersbaugh's peak. The first sequel in the life simulator series went on to become one of the greatest-selling PC games of all time, reaching several million copies sold in 2012. That's not counting the innumerable pirated copies of the game, various console ports, or the sheer amount of hours put in by each player. Stylistically, the line beginning with Muzik for Insomniacs through Rugrats to The Sims 2 is clear. Mothersbaugh has a mastery for the somewhat cheesy earworm melodies that make up so much of the soundtrack, like on "Makeover," where he pulls out a plucky MIDI string introduction that sounds like an old cell phone ring tone and adds a gently grooving bass underneath and then somehow brings in a drum break.
The music of The Sims sees the musician coming full-circle conceptually as well. Mothersbaugh spent so much of his life making music criticizing society, and here he presents a ham-fisted, albeit memorable score for the absurd lives of these simulated people who accidentally set their houses on fire, constantly make whoo-hoo, jump for joy over career accomplishments, and drown in the swimming pool if the player takes away the ladder. 
-Sam Tornow
---
dispatches of "tusk is better" will always be free but donations are welcome here: