interview: jon abbey on AMPLIFY 2020: quarantine
"I am thinking of them a bit like aural postcards, 'I'm still here!'"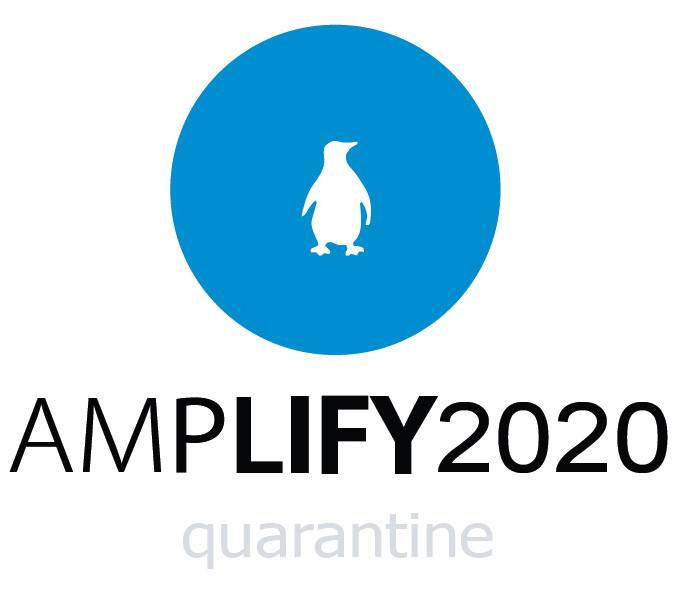 (logo designed by yuko zama)
welcome to issue #13 of "tusk is better than rumours," a newsletter featuring primers and album rankings of experimental and 'outsider' musicians. artist primers are published every other monday, and on off-weeks I publish a variety of articles ranging from label and genre primers to interviews to guest writers.
this week we've got an interview with jon abbey, the head of the great erstwhile records and the co-curator, along with vanessa rossetto and matthew revert, of AMPLIFY 2020: quarantine, an ongoing online festival featuring some of the best and most exciting experimental and improvisational musicians around. listen to the works produced so far at the AMPLIFY 2020 bandcamp page and join the festival's facebook group for download links and more information about each release.
sign up to receive the newsletter if you haven't already! and follow us on twitter @tuskisbetter! and tell a friend! also you can reply to these emails or write to tuskisbetter@gmail.com.
---
as the head of erstwhile records, jon abbey has played matchmaker for luminaries from the international experimental and improvised music scenes. abbey's preferred method of soliciting music is to pair two musicians into a new duo on the theory that with roughly equal strengths of personality and musical acuity, they will push each other into areas that they'd be unlikely to reach on their own. sometimes the resulting partnerships are unexpected because of distance, as in lucio capece and marc baron, who had never heard of one another before recording together for erstwhile. but sometimes they are surprising because of proximity, as in keith rowe and john tilbury—who would have thought that after all those years in amm these two had never recorded as a duo before?
abbey also applies his talent for fostering collaborations to a series of concerts called AMPLIFY, of which there have been nine since 2001. in new york city, tokyo, cologne and berlin, and prague, musicians from erstwhile and related scenes have gathered to play improvised sets in a dizzying array of combinations. but because such a festival was not possible this year, abbey has created an almost alarmingly ambitious event called AMPLIFY 2020: quarantine, which provides a platform for artists to produce new pieces despite straitened circumstances. on march 12, he announced rather cryptically via a new facebook group that "this page will host an online festival of sorts." the scope of the endeavor became more clear as, on march 20, abbey began posting multiple new pieces per day, all recorded after the initial announcement eight days previous. so far there have been 50 releases from notables ranging from keith rowe to david grubbs. abbey, along with his co-curators vanessa rossetto and matthew revert, have said that the torrent of releases will continue "until the world situation has taken a decided turn for the better, no matter how long that may take."
I reached out to abbey via facebook to see what exactly goes into planning an event of this scale. he predicts that there will be "150 or 200 or even more submissions," which is good news for us but, I suggested, is surely a nightmare for him. but his deep and extended connections have made the process surprisingly smooth so far. "I have been running erstwhile for 20+ years now and have documented 100+ musicians on there, and I know countless others in various ways, so there was/is no shortage of people for me to invite," he explains, "and also vanessa [rossetto] and matt [revert] have each invited a handful."
the musicians that he's reached out to have been eager to participate as well. "I've been pleasantly surprised given the worldwide chaos that almost everyone I have invited so far has said yes, or at least that they will do their best to do something," abbey remarks. this is uncharted territory for abbey, for AMPLIFY, and for the participating musicians, largely because of the limited time available to generate these releases. "there's obviously a big difference in the time constraints, although I'm not rushing anyone to finish. vanessa rossetto, for instance, generally takes months to work on a piece, but for her (incredible) piece for this, she worked on it intensely and exhaustively for about 17 days. also I'm asking people to contribute at a time when they may not necessarily be specifically inspired to do something, which is different from typical releases (hopefully, heh)."
these releases exist outside of the cycle of recording/marketing/distribution that artists are used to, and I wondered how musicians have been faring without proper instruments or recording equipment, and how the resulting work would figure among their more traditional releases. "a few are indeed without those things, but most people seem to not have an issue with that," abbey attests. he adds that he has "encouraged people that these pieces don't need to have any connection to their 'regular' body of work—I am thinking of them a bit like aural postcards, 'I'm still here!'. the feedback has been pretty great so far, and one thing I'm really happy with is how many musicians have put out their first music in quite some time in this series, seemingly a nice way for some to put their toe back in the pool."
despite the seemingly transitory or minor nature of these recordings, the quality among them is consistently high—any reckoning with these artists' discographies will have to account for them. it's my self-appointed role to advise you about where to start with such sprawling bodies of work, but in this instance I cede my priority to abbey. listen to his recommendations first, and then dip down and read my selections below.
keeping in mind that the project is still in its early stages, abbey says that "the ones I recommend absolutely not missing so far are the antoine beuger, the vanessa rossetto, and the incredible telepathic english blind overdub, graham lambkin and keith rowe and will guthrie and matthew revert and jason lescalleet and greg kelley too, and apologies to the slew of really good pieces I'm leaving out."
go check those out. I'll wait.
---
impressive, yes? alright, here are my own picks, presented in chronological order:
radio cegeste is the project of sally ann mcintyre, a writer and artist based in dunedin, new zealand. for radio cegeste performances, mcintyre uses a set of small fm receivers to which she transmits a weak hyperlocal signal. this literalizes her interest in recovering the noise from the signal in historical memory and systems-making: what gets lost as things are located in the natural world and relocated according to capitalist/consumerist imperatives. at base it's an ecologically-minded project, and mcintyre's interest in birds as both transmitters and receivers of signals (as birdsong) accords with the history of environmental destabilization and extinction. for this piece, mcintyre used her receiver/transmitter setup to broadcast and record a music box reproducing the song of the tui bird along with a recording of a steel string zither. the result is a haunting piece that explores the boundaries of organic/mechanical and analog/digital sound.
if radio cegeste is focused on history and nature, richard kamerman is in many ways the opposite. in his work he revels the synthetic present, in breaking electronics and computers to wrench noise from them. here you can watch a representative performance in which he and a group of collaborators hammer away at a package of misprinted cds. his project for AMPLIFY is an instance of ideals meeting constraints. as he describes in his notes on the project,
i had all these big ideas for a real home-quarantine set, all about the domestic sounds of my apartment while weird blocks of noise played out of a pair of headphones. maybe louder if i 'accidentally' unplugged them mid-recording, when i fell over a pile of file boxes, or something. it was gonna be cute and conceptual, maybe i would have pulled out other acoustic sound making devices to play along. but i couldn't get even the playback part right. and in my frustration, i recorded this improvisation to comfort myself, and suddenly realized it is in fact my AMPLIFY set.
the result is an intimidating slab of sound. he regrets that his end of the titular conversation with his dad wasn't picked up on the recording, but I'm much more interested in his dad's experience listening to this through the phone.
I clicked play on this with a great amount of hesitation because a cutesy recording of alvin lucier's piece is the last thing anyone needs right now. but this is an homage in name (and I suppose album art) only. the recording itself is a fantastic bit of drone, gradually escalating until (spoilers) the 9:23 mark, when the listener is plunged into an immersive bass-heavy pulse. smith is also a writer and solo artist as bleak race as well as a member of de trop and york factory complaint. I'd say follow those links in order; they get more extreme as you go.
id m theft able is, thank god, funny. in the superserious world of experimental music his looney tunes creations dare the listener not to laugh. he's more a noise organizer than a composer, grabbing whatever is around and shaking it and pounding it to see what it can do. you can watch him at work here or here or here. there are quite a few cliches in the world of field recording, including running water, radio static, bells or chimes, and rain. for his entry into the AMPLIFY series id m frantically mashes these together as if he's late for the deadline, slapping at a tub of water, racing through the fm dial, and hurriedly tinkling at some windchimes. thank god it started raining on time.
Mark Harwood –
Covid 5
mark harwood is a field recordist, composer, and founder of penultimate press. during the quarantine, he has kept up an audio diary to record his impressions of the new conditions of living he's encountering daily. his narrations are sometimes unsettling and sometimes funny but always relatable. over the course of 20 minutes, he tells of treks to the grocery store ("a gentleman buying 15 cans of polish beer first thing monday morning"), walks with his dog ("the dogs got to touch each other and play and roll around while everybody stood five meters apart") and general disorientation ("day something… fuck knows… i don't know when it started…"), all over a shifting layer of static and cheap organ and background tv.
---
alright so go check those out and keep up with the rest of AMPLIFY 2020: quarantine through the festival's bandcamp and facebook. and tell your friends and tell them about the newsletter too.