Discover more from Tusk Is Better Than Rumours
primers and album rankings of experimental musicians. all rankings guaranteed definitive and all opinions guaranteed correct.
so you wanna get into... matana roberts
"I want this project to represent the diversity of the human experience—or what my mother used to say, she used to say 'This project is a sound monument to the human experience.'"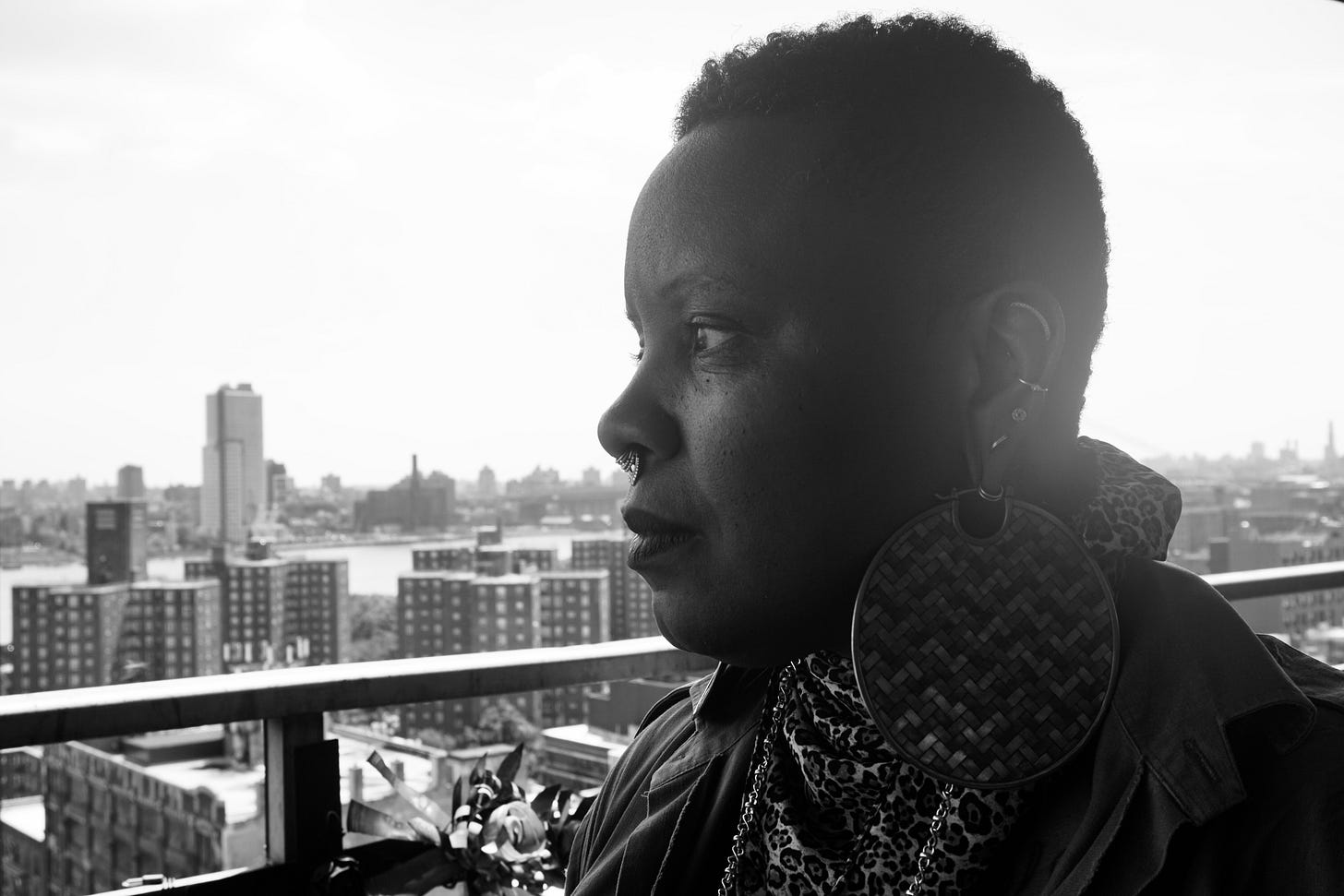 (photo by m. tarantelli via constellation)
welcome to issue #16 of "tusk is better than rumours," a newsletter featuring primers and album rankings of experimental and 'outsider' musicians. artist primers are published every other monday, and on off-weeks i publish a variety of articles ranging from label and genre primers to interviews to guest writers.
this week features a guide to the work of alto saxophonist, band leader, and multimedia artist matana roberts, whose ongoing COIN COIN project maps her family's history onto african american history in a series of improvised jazz pieces.
sign up to receive the newsletter if you haven't already! and follow us on twitter @tuskisbetter! and tell a friend! also you can reply to these emails or write to tuskisbetter@gmail.com.
---
when i started this newsletter i knew that i was going to eventually write about matana roberts's 12-album COIN COIN project. i figured i would wait until it was completed, but i'm doing the math here and i'm worried that i'll be hit by a train or fall down a well before she completes it. she's not quite in sufjan territory but there are still eight albums left to go. she used to release one installment every other year, but ironically as the COIN COIN series has made her increasingly famous she has more and more engagements that draw her away from recording COIN COIN albums. there were four years between the third and fourth installments. i'm an old man, and clumsy. you can do the math.
for the COIN COIN project, roberts uses graphic scores to guide improvised jazz sessions based on the theme of roberts's family history and its intersections with african american history. it's named after the louisianan free person of color and businesswoman marie thérèse "coincoin" métoyer, who used her money and land to purchase enslaved people so they would not be sold elsewhere. her nickname of "coincoin" was also given to roberts by her parents when she was a child in chicago.
roberts's method takes pieces of family history—oral or written—and combines them with historical documents to create a narrative which is deployed in performances by various lineups. roberts calls this method "panoramic sound quilting," which is an apt description of method but also a reference to quilting as a primary source of self-expression, and a vital mode of communication, for african american women. from the story of philomela's tapestry onward, feminine-coded crafts like sewing, knitting, and quilting have represented some of the only modes of self-expression consistently accessible to women. in her essay "in search of our mother's gardens" the novelist alice walker recognizes in quilting one of the few ways that african american women have historically been able to express themselves creatively:
For example: in the Smithsonian Institution in Washington, D.C., there hangs a quilt unlike any other in the world. In fanciful, inspired, and yet simple and identifiable figures, it portrays the story of the Crucifixion. It is considered rare, beyond price. Though it follows no known pattern of quiltmaking, and though it is made of bits and pieces of worthless rags, it is obviously the work of a person of powerful imagination and deep spiritual feeling. Below this quilt I saw a note that says it was made by "an anonymous Black woman in Alabama, a hundred years ago."
so when roberts calls her work "panoramic sound quilting," she is placing herself at the end of a long line of black women artists, some of whom turned to quilting as the only mode of artistic expression available to them, some of whom likely didn't consider themselves artists at all (roberts herself prefers the term "craft" to "art"). the method matches the material: she creates patchworks of sound made from scraps of oral history, written accounts, and folklore about those women important to her—métoyer, her grandmother, herself. jazz is itself like quilting in its collaboration and improvisation—women would work on a quilt together, sewing it according to a pattern but adapting it to the materials at hand.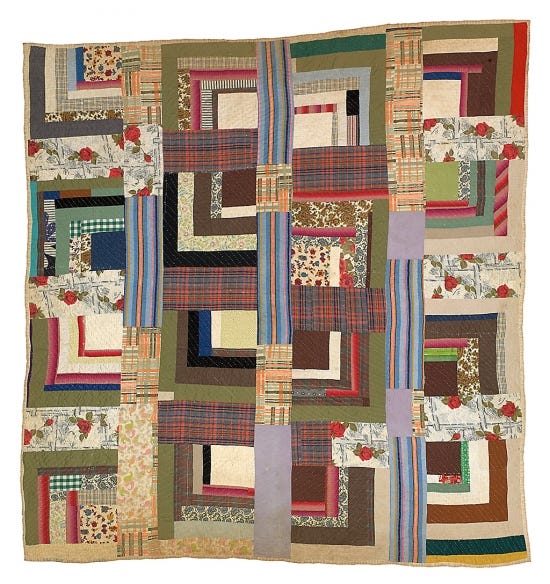 (a quilt by martha pettway, 1911-2005, of the community of quiltmakers at gee's bend alabama. this is a variation on the "half-log cabin" pattern. improvisatory quilts are also called "my way" quilts. 1930s.)
after roberts has collected snippets of traditional song, family lore, field recordings, and historical records for her narrative, she directs her musicians with graphic scores according to a system of improvisatory conduction by butch morris. she explained to the quietus that
Butch says he got his system from watching Sun Ra. It's this interesting passed-down sort of thing. So it's a combination of visual cues and, depending on the mood and the music I'm trying to set, there will be certain things in the photographs or the collage that might be cues, or might be actual notes, or - you can look in a photograph and see a certain story. If you're really paying attention there are things that you can actually see and I try to focus on that. A lot of the ephemera I collect, there's a lot of subtext in the ephemera. Sometimes I take actual data from the ephemera and turn it into sound because it's very easy to turn numbers or letters or just syllables.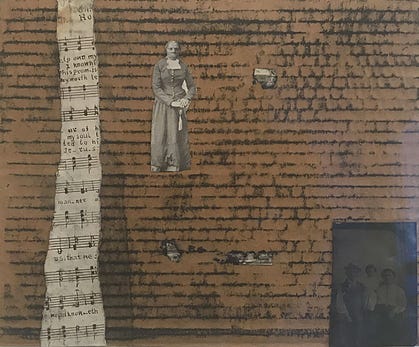 ("always say your name," graphic score by matana roberts)
the result is often harrowing: tales of oppression filtered through the prism of song. sometimes the song mutes the sorrow, sometimes it amplifies it. this is difficult music, but essential in its relation of the african american experience to a new audience.
below, i'll go through the first four COIN COIN albums in chronological order. you can follow along or you can follow my Recommended Listening Order™: Chapter 4, 1, 2, 3. of course, roberts has plenty of music that's not part of this project—i include her solo/bandleader albums at the end in my order of preference along with an overview of her work in other groups.
---
The
COIN COIN
Project
COIN COIN Chapter 1: Gens de Couleur Libres
(2011)
the COIN COIN project began with this performance at montreal's famed hotel2tango studio. in front of a small crow, matana led her group through a 90 minute concert that was then edited down into this introductory album. there's a bit of a learning curve here—the contours of the project don't come into full focus until after the first track, "rise," a 7+ minute improv led by roberts's piercing alto sax. but by track two, "pov piti," the project's mission becomes startlingly clear. roberts narrates the life of marie thérèse "coincoin" métoyer in first person, sing-talking a series of horrific details about her life ("i watched my parents die of yellow fever") until she identifies herself: "i am qua qua qua qua qua qua coin coin." the french "qua" (what) transforms into the english "coin," jumping across languages to signal the transition between nameless thing to named thing. the name "coin" itself has two sides, signifying both "money" and "to invent." as an enslaved person, métoyer was worth coin; as a free person, she was able to coin her name, to invent her identity. as Coincoin, the famed businesswoman of natchitoches, louisiana, she was able to guide many others through the same transition by purchasing their freedom. keeping in mind roberts's own association with the nickname, connections between her family history and the larger history of african americans are implied. throughout the rest of the album, we get the rest of métoyer's life story, culminating in the 10-minute "i am." then, the album closes with a lovely piece matana wrote for her mother, called "how much would you cost?," making explicit the generational effects of slavery on the african american experience. despite the title phrase's unnerving allusion to the slave auction, the song is a celebratory affirmation of the pricelessness of family.
COIN COIN Chapter 2: Mississippi Moonchile
(2013)
if the main character of Chapter 1 is marie thérèse métoyer, the main character of Chapter 2 is roberts's grandmother, who roberts interviewed for the album. much of the lyrical content is based on her answers, with a refrain of "there are some things i just can't tell you about, honey" that hints at unexpressed grief. roberts's grandmother's experience is included among other voices, including testimony from mississippi freedom democratic party activist fannie lou hamer and passages from the traditional song "black woman" and the hymn "in the garden." in this way, unique experiences are juxtaposed to sketch out a fuller picture of black life in the 1960s (roberts's grandmother didn't much notice white people; hamer was held in their jails). for this turn, matana recruited a sextet including the opera tenor jeremiah abiah. she remarks that she included an opera singer to in remembrance of her parents taking her to operas as a young child; for the listener, abiah's voice generates an odd mix of styles—the baroque careening into more traditional jazz structures, as if scott walker grew up in new orleans.
COIN COIN Chapter 3: river run thee
(2015)
roberts plans on recording 10 COIN COIN albums with a group and two solo. river run thee is the first solo entry in the series, and she describes it as her "noise" album. it does have noisy moments, such as on "a single man o' war," but much of this actually represents some of the calmest, music in any of the chapters, though it is often eerily dissonant. the foundation of the album consists of field recordings made on a trip roberts made through tennessee, mississippi, and louisiana. atop this, she recorded herself singing traditional gospel songs and reading from her grandfather's poems and historical diaries of an english captain who sailed freed slaves back to africa. snaking its way through this busy aural environment is her saxophone, pure and clear as ever. birdsong is eclipsed by muttering and humming. fragments of language float by ("it was therefore useless to detain her any longer… there are three distinct forms of this trade…"). an indistinct melody is obliterated by a burst of noise. the effect is disorienting. this is the most post-processed of the four COIN COIN albums to date, the odd man out in many ways, first choice among those with a predilection for laptop music over live improv but least representative of the larger project.
COIN COIN Chapter 4: Memphis
(2019)
if you take my advice i'd say start at the end with Chapter 4 and then go back to the beginning and end with Chapter 3. Memphis has the twin advantage of recency and accessibility. as a matter of fact if you've never heard roberts at all i'd direct you to "as far as eyes can see," which transitions from a big blast of sound into improvised drum and horn noodling and then into a sing-speak narrative: "i am a child of the wind / even daddy said so / we used to race and i'd always win." with a total of ten musicians, this is the most collaborative outing yet in the series, and its range of instrumentation expands its sonic palette accordingly, with oud, accordion, and jaw harp included. this is also the freest of her free jazz explorations, from the noisy romp of "piddling" to the spacey sun ra-indebted "shoes of gold." "her mighty waters run" is gorgeous and "raise yourself up" is as close as roberts has gotten to good ol' fashioned rock and roll—put it all together and this is the most representative and consistently good album of the series so far.
Solo
For Standing Rock (2016): this might be considered the most "minor" of roberts's albums because it's the shortest and most casual. the whole thing is only 10 minutes long, and it was released quickly with all proceeds going to the water protector legal collective at standing rock, north dakota, during the nodapl protests. it's a recording of roberts playing in the subway in new york city. for all that, though, it's my favorite of her solo work for its immediacy—the subway comes and goes, people walk by, you can catch snatches of conversation, and roberts's saxophone soundtracks it all. there's a famous story about the violinist joshua bell playing in a subway station and nobody paying him any attention. the story is supposed to be about how the uncultured masses are sadly blind to the greatness of High Art, but to me it has always simply suggested that joshua bell didn't learn his lesson from john cage. context defines the parameters of performance; performance doesn't magically redefine context. in roberts's case here, the linking of the nyc subway to the dakota pipeline infuses the entire performance with meanings related to the limits of legality, the minority body against the carceral state, and the meaning of democratic progress. if roberts couldn't put her body on the line in north dakota, she could do so in a more subtle way by going underground in new york. as she says, "it's not always legal to play in public subways and any musician going down there is taking chances but at least it's not the kind of chances where you have to wonder about rubber bullets, water torture, LRADS, and state violence."

Always. (2015): in many ways this is the opposite of For Standing Rock. it was recorded in-studio, with no audience. and it was recorded very, very well. the listener can hear every breath roberts takes and every click and tap of her saxophone keys. on top of this, you can hear as her thought develops over a 30+ minute improvised piece, as the recording provides insight into her practice outside of any input from other performers or an audience. it's just her and herself, and it's not often that a listener is privy to such an intimate performance of a solo artist with as much talent as roberts.
As Bandleader
The Chicago Project (2008): if you like jazz, start here. from note one, it's apparent that the group gathered for this recording, which consists of chicago greats jeff parker, josh abrams, frank rosaly, and fellow aacm saxophonist fred anderson, is tight and in sync. this is the best of roberts's traditional jazz albums because it combines undeniable chemistry with great production—either one or the other is sadly lacking in the albums below. fantastic coltrane-influenced playing by roberts herself, and interesting work by the players as well. more than a matana roberts album, this is also a document of a specific chicago moment when obama was on the rise and tortoise reigned supreme.

Live in London (2011): for this recording, performed in 2009 but released in 2011, roberts apparently didn't get to rehearse too much with her british group, robert mitchell, tom mason, and chris vatalaro. as a result, the playing is more tentative, less confident. though all four players are adept, this recording lacks the immediate impact of The Chicago Project—you tell that roberts is not only away from home, but less at home.

The Calling (2006): this limited run cd-r doesn't have the best sound quality, which roberts attributes to a lack funds at the time of recording, but it serves as the only publicly released document of the configuration known as the "matana roberts quartet" featuring taylor ho bynum, thomson kneeland, and tomas fujiwara. they tackle some interesting selections, including sun ra's "we travel the spaceways," which at the very least provides a hint as to robert's influences.
Other Groups
throughout the 2000s roberts played with a couple of groups, putting out two albums with sticks and stones and four with burnt sugar. but of most importance to indie nerds who came of age in the early 2000s, she also appears on gy!be's Yanqui U.X.O, savath and savalas's Golden Pollen, tv on the radio's Dear Science, and silver mt. zion's Kollaps Traditionales. who knew? if you want some intense quarantine nostalgia, go back and listen to those. it's a trip. also i'd like to direct your attention to this lil ditty from klein. i would not be mad at all if they went ahead and made a whole album together.
i'm going to leave you with a few of the best bits of matana roberts video: her recent set at issue project room, her performance with peter brötzmann at cafe oto, and this 2-hour (!) interview at red bull academy:
see y'all next week, stay safe, stay inside, listen to tunes.
---
you can help support the newsletter for the price of a coffee. all donations go toward paying guest writers and offsetting the costs of production (bandcamp downloads, food, stimulants)