so you wanna get into... zeena parkins
a primer featuring 12 of the harpist's albums plus an "odds and ends" recommendation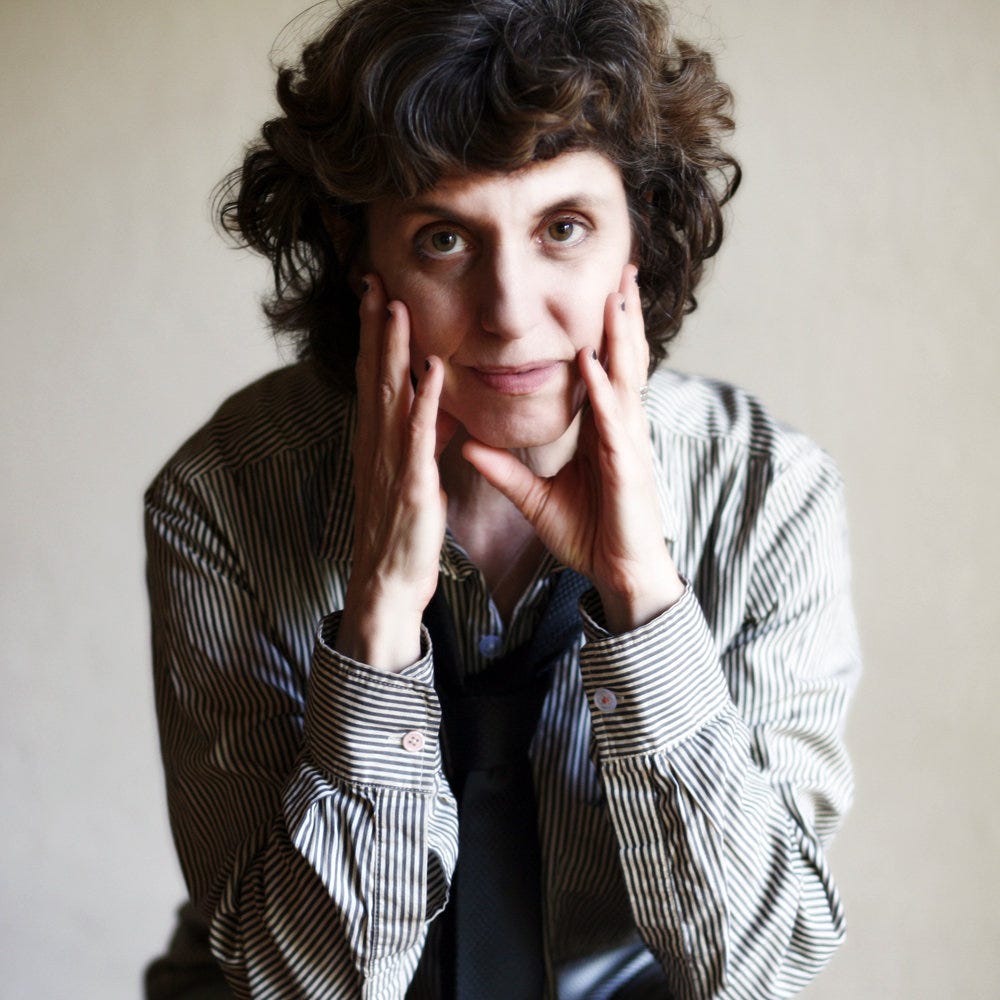 (photo of zeena parkins via her
bandcamp page
)
welcome to issue #33 of "tusk is better than rumours," a newsletter featuring primers and album rankings of experimental and 'outsider' musicians. artist primers are published every other monday, and on off-weeks i (occasionally) publish a variety of articles ranging from label and genre primers to interviews to guest writers.
this week we dive into the rich and varied career of harpist zeena parkins. parkins did for the harp what john cage did for the piano—expanded its possibilities by testing its limits. she experiments with techniques on both acoustic and electric harp (did you know electric harps existed?), summoning sounds out of the instrument that prove it's much more than simply soothing and somnolent. on top of this, she's a composer and improviser who has collaborated with musicians from Björk to John Zorn.
sign up to receive the newsletter if you haven't already! and follow us on twitter @tuskisbetter! and tell a friend! also you can reply to these emails or write to tuskisbetter@gmail.com.
---
growing up, avant-garde harp music was not in zeena parkins' cards. she was classically trained as a pianist, not touching a harp until high school where she was able to play the harp owned by the music department. then, off to bard college where she was further alienated by the limits she felt her formal training imposed on her. then she heard the No New York compilation, which introduced her to a whole new world of possibilities. so she quit school and joined the circus.
after she got back from touring with the circus in the early '80s she moved to new york and started working in a harp store. the harp allowed her a way into the burgeoning new york experimental scene, as it was a niche instrument—this was a full generation before joanna newsom or rhodri davies gave it even fleeting popularity, and contemporaries of parkins can be counted on one hand (anne le baron, elizabeth panzer…???). she joined news from babel with chris cutler, lindsay cooper, and dagmar krause, and then skeleton crew with fred frith and tom cora. cora helped parkins build her first electric harp, and then she was off and running. the massive volume and wide range of dynamics that the electric harp allows for set her apart from even the other improvisational harpists around (few and far between as they were). she then began playing and improvising alongside chris cochrane, butch morris, john zorn, and other ny scenesters.
the musicians from this scene reappear throughout parkins' discography and form a core of musicians that she has consistently recruited from. she began composing her own music in the gangster band, a group formed with cochrane, her musician sisters sara and maggie, and ikue mori of dna (who were featured on the No New York comp that changed her life). throughout the '90s and '00s parkins continued to release music under her own name, but her profile also grew because of gigs playing and recording with björk, nels cline, and john zorn (whose tzadik label released several of parkins' albums as well). she also started or played with a whole host of bands: green dome, glass triangle, the adorables, phantom orchard, the phantom orchard orchestra.
zeena parkins is primarily a collaborator, drawing together her own bands or contributing to others', always creating or strengthening a network of musicians that has been based around the same downtown new york scene for 40 years now. however, below i'll focus only on those records released under parkins' own name, first as a composer and then as a solo performer. it's a partial view of her career, but one that highlights her skills and allows one to better understand her contributions in other projects as well. in chronological order:
---
Composer
Something Out There
  (No Man's Land, 1987)
parkins' solo discography begins in 1987 with Something Out There, which features ikue mori and tom cora along with samm bennett, christian marclay, and jim meneses. while there are a couple of solo harp songs in "little hip haw" and "flavor of green tea over rice," most tracks feature collaborations with one or more of these musicians. it's a playful but uneven record, as each improvisation sounds more like an exploration of the possibilities of the electric harp improvising with other instruments than a showcase of its unique dynamics. the stand-out track here is "southern exposure," as bennett's percussion gives the whole a propulsive momentum that is sometimes lacking in elsewhere on the record.
Ursa's Door
(Les Disques Victo, 1992)
Ursa's Door is a 30+ minute track featuring parkins along with her sisters sara and maggie on strings, chris cochrane on guitar, and again mori on drums. it's much tighter work, as its long running time is divided into many small segments that each have a concrete idea to express. the parkins sisters play a lovely cello and violin duet for about 45 seconds, which lapses into a stuttering field recording and percussion segment until the strings re-enter, then cochrane's electric guitar interrupts for a dissonant segment (this may be zeena's electric violin, actually; it sounds much like a distorted guitar at times). the piece is unpredictable but obviously planned out to a t, which avoids the meandering quality of parkins' first solo endeavor. the second track, the 15-minute "flush," is not divided into careful segments like this—instead it's a sprawling improvisatory jam that still builds upon the promise of Something Out There but still misses the high mark of the title track.
Isabelle
 (Avant, 1995)
it's fair to say that Isabelle is parkins' breakout record—released by avant, who had by then released work from john zorn's naked city, dna, george lewis, and john oswald, it has been cited by people like rhodri davies for putting the harp on the map as an instrument to take seriously in experimental music. it's based on the life of isabelle eberhardt, a swiss explorer who moved to algeria, began dressing like a man, converted to islam, and changed her name to si mahmoud essadi in the late 19th century. her behavior alarmed the french government, who suspected her of being a spy. after she died in a flood at the age of 27, her papers were published and she became a hero of the algerian decolonization movement. the album incorporates modes from north african folk and religious songs, which hasn't aged as well as some of parkins' other work—while these forms do evoke the setting of eberhardt's story for a western audience, there's a touch of exoticization that is at odds with eberhardt's apparent dedication to the political future of the region. eberhardt fully immersed herself in algerian culture; parkins, in telling her story, merely dabbles. the last five songs here are a collaboration with ikue mori called "hup!" while they're a fun set of songs, full of bounce and verve, they seem disjointed from the rest of the album, and at only 13 minutes total they could have just as easily been left for another release.
Mouth=Maul=Betrayer
(Tzadik, 1996)
parkins' follow-up to Isabelle is the first of a series for john zorn's tzadik label. it's also, in my opinion, among her best. this time she moves back in time within her home of new york city for inspiration to craft a concept album about jewish gangsters for tzadik's "radical jewish culture" series. the result is a document that feels as historically rich as Isabelle without the questionable cultural quotations. here, parkins includes audio clips of mayor la guardia, the gangster bugsy siegel's mistress, and examples of a little-known yiddish dialect used in the underground called "rotwelsch." the album opens with a doleful violin segment courtesy of sara parkins, but then with a whiplash change of direction, a detective-thriller guitar part rushes among chaotic explosion sounds. it's a cinematic start to a cinematic album. this, like Isabelle, is also divided into two sections. the first section, "maul," is about the lives and deaths of jewish gangsters through the ages, while the second, "blue mirror" is a series of audio profiles of specific jewish gangsters from the first half of the 20th century in new york. the whole is an evocative glimpse of a subculture that i for one didn't know existed before encountering this work.
Pan-Acousticon
 (Tzadik, 1999)
the tzadik follow-up, Pan-Acousticon, is a more traditional small-ensemble modern classical work, but with parkins' sensibility apparent throughout. at times it could pass as a rachel's disc (mainly when piano becomes the predominant instrument), but at others it is purely parkins. "solo," for solo electric harp, is the obvious example, but the absolute standout tracks are "D.I." parts 1 2 and 3. they combine the raucous forward momentum of parkins' best work with groups, but with an especially effective combination of electronics and acoustic instruments. i believe somebody with a bit of facility on audacity could combine them into one glorious suite. as a matter of fact, a lot of tracks could be pulled out and paired this way: "intro" and "end," "solo" and "duo," and "bels" parts 1 and 2. however, on the album they've been carefully sequenced to make a dynamic, exciting full-length piece, so maybe just leave them be.
Necklace
 (Tzadik, 2006)
two of the pieces here are for the eclipse string quartet, of which parkins' sisters sara and maggie are members. the first of these, "persuasion," features a recording of the quartet that is then post-processed by parkins so that it sounds much, much bigger than a piece for four players. for the second, "visible/invisible," parkins is hands-off but the players supply all the drama necessary. the track "solo for neil" is a lovely little harp tune in which the harp actually sounds like a harp. for my money though the most conceptual, obnoxious, and therefore best piece is "16 feet + cello," in which the 16 feet refers to those of eight dancers from comanie sui-generis and the cello to maggie parkins'. zeena mic'd both the floor and the cello itself so that the sound of the dance company intermingles with maggie's extended playing. it mostly sounds like a bunch of scraping and thumping, but for long moments there's a sort of vegetable shifting and pulsing caused by the traipsing feet. if lean toward the experimental or are into electroacoustic improvisation, this track is the only interesting one here. if you like, you know, music, then go for the rest of them.
Between the Whiles
 (Table of the Elements, 2010)
for Between the Whiles, parkins took a break from her run for tzadik to return to table of the elements. it makes sense, as this release varies considerably in scope and tone from its neighbors. each track is named for a material, and (whether this is pure association on my part or not), seems to be inspired by it. "glass" begins with water sloshing in a glass of water and then features extensive use of humming wine glasses. "wire" features long thin sounds and "bubble" effervescent, floating sounds—though at times these comparisons are a stretch. perhaps the most noteworthy track is "gold": open up the booklet to the credits and you'll see that luciana achugar, levi gonzalez, eleanor hullihan, and the thin man dancers are all listed simply as "breathing." their collective respiration is a bit off-putting at first, but it soon becomes clear that this is the most successful track, as their very human presence grounds what can sometimes be a rather dry, academic affair. the "gold" here is surely metaphorical—the gold of the perfect take, or of a fabulous idea.
Double Dupe Down
 (Tzadik, 2012)
Double Dupe Down is a bit frustrating because, while it features an all-star cast of musicians including the parkins sisters, okkyung lee, christian marclay, ikue mori, william winant, and jim pugliese, it is also a compilation. that is, if the listener is expecting that parkins marshaled all of this talent in the name of one unifying theme or idea, they will be disappointed. instead, the album features selections from five film scores that parkins wrote. so while there are interesting bits and pieces here, they are doubly disconnected, both from each other and from their original context. in that way, it's a repository of ideas that the intrepid fan can turn to if they want to track down the films that parkins has worked on, but as a coherent album it falters. if you're the type of person who doesn't mind slicing and dicing and album, cutting out tracks that you don't like, you could craft your own imaginary film score from these pieces. otherwise there are much better places to start getting into parkins' considerable repertoire, as tempting as the names in the credits here may be.
Solo
Nightmare Alley
 (Table of the Elements, 1993)
parkins' first solo album Nightmare Alley explores the electric harp in its full range of sounds. whereas later solo albums feature one coherent idea, as we'll see, this one is meant to introduce the audience to the capabilities of this new instrument. at times it sounds like a harp ("nightmare alley"), at times it sounds like a guitar ("peephole"), at others it sounds like a vibraphone (first half of "model for a colossal moment") or a synth ("zig x"). it's an impressive achievement to 1) build the thing, 2) work up this variety of sounds, 3) compose tracks around those sounds and then 4) perform them so meticulously. but what's more impressive is that this all works on its own, as music, apart from the narrative of its creation.
No Way Back
 (Atavistic, 1998)
play this for an unfamiliar listener and they'll probably guess it's a collection of noodlings from thurston moore. give them ten more tries and they'll guess ten more guitarists. parkins lets loose entirely here, building on her solo work with Nightmare Alley but erasing any hint that this is a harp album. her electric harp simply sounds like an electric guitar, though she is able to more easily create grand, sweeping swathes of noise with it. the introductory "vita futuristica" is 9 minutes of full-on, feedback-drenched mayhem, but on later tracks she explores the subtleties of her harp-as-guitar configuration. "dreaming lips" uses slight reverb and echo to create a, well, dreamy ambient piece. "vexed zeit" is a sloppy blues piece, as its title perhaps alludes to (vexed zeit=hard times?). "slant left" uses a delay pedal to entrancing effect, and the epic 11-minute "venus smiles" conjures up a storm of noise. maybe it's not too impressive that an electric harp can sound like a guitar—after all, the components are largely the same—but what is impressive is that parkins can so ably create a "guitar" album in addition to everything else that she uses the harp for. taken as just one aspect of her multifaceted career, this album retains its fascination.
Three Harps (Turning Forks & Electronics
, Good Child Music, 2017)
this works exactly as advertised: the first three tracks are for harp, and then there's a track for tuning forks, and electronics are used sparingly throughout. the three harps of the title might also refer to three harpists—nuiko wadden, kristen theriault and megan conley—who parkins invites to perform here. the harp-based tracks that make up the first half of the album are slightly untraditional, with different objects used to summon sounds from the instrument. for "muted," the strings are muted with a cloth strip, and in each the strings are plucked or otherwise manipulated with ebows, basting brushes, metal bolts, and wooden mallets. "tuning forks," featuring ikue mori, is a new agey ambient piece created by with tuning forks and gentle raindrop percussion. "drumming" features the harpists drumming on their instruments, and though it's not a performance of the reich piece of the same name, it feels like that reference is certainly intentional. and finally the lovely "coda," which starts out as a little harp ditty but ends in blasting electronic noise. though it's relatively simple, "coda" is one of my favorite tracks of parkins': unassuming but deliberate in its movements, with a strong melodic line that makes it infinitely replayable.
Captiva
 (Good Child Music, 2018)
Captiva is parkins' most recent album and also a great introduction to her work as a solo harpist, so good news for everyone who scrolled straight to the bottom to read about the new stuff. it has five tracks but only three songs, because "captiva i" and "captiva ii" were recorded in both "acoustic" and "electric" versions. this is a bit misleading, as really those latter should be called "electronic" versions—they are not played on electric harp, but are instead transfigured through live electronic processing. though it is a bit odd to repeat compositions that varied only so slightly, skipping back and forth from the acoustic and electric versions does give the listener an education about the possibilities of the harp as an instrument and the sounds one can make through by applying subtle effects to it.
A Couple More Things
of course zeena parkins is known for her collaborations just as much as her work as a solo performer or composer, so if you want to start exploring that aspect of her career i'd suggest starting with phantom orchard, her project with ikue mori. if you want to see the electric harp in action, parkins recently played a streaming concert for experimental sound studios.
---
Odds and Ends: Phillip Werren, Electronic Music (1971)
this installment of the recurring segment "odds and ends," in which i recommend a relatively obscure record that doesn't fit into the newsletter's overall theme of folks with large discographies, is about the phillip werren's massive album Electronic Music:
phillip werren was a student of milton babbitt's at princeton before he went to europe to study in germany and poland. then he moved to canada, where he taught at simon frasier university. although he kept composing through the 1980s, to my knowledge this is the only time his music was published. released in 1971 in an edition of only 100 and then reissued by manufactured recordings in 2018 in an edition of 500, it remains a rare find. luckily it still exists on bandcamp and youtube. this collection features "phases," a three-part piece based on the poetry of w.b. yeats, along with four other tracks. "phases" is the main draw here, an hour and a half of insane spoken word in a haunting atmosphere created by buchlas and moogs. among the other tracks, "vortex" is the standout—use headphones for maximum effect.
dispatches of "tusk is better" will always be free but donations are welcome here: