Discover more from Tusk Is Better Than Rumours
primers and album rankings of experimental musicians. all rankings guaranteed definitive and all opinions guaranteed correct.
when and where: onkyo at off site
"I simply wanted to listen to sounds more deeply" -Sachiko M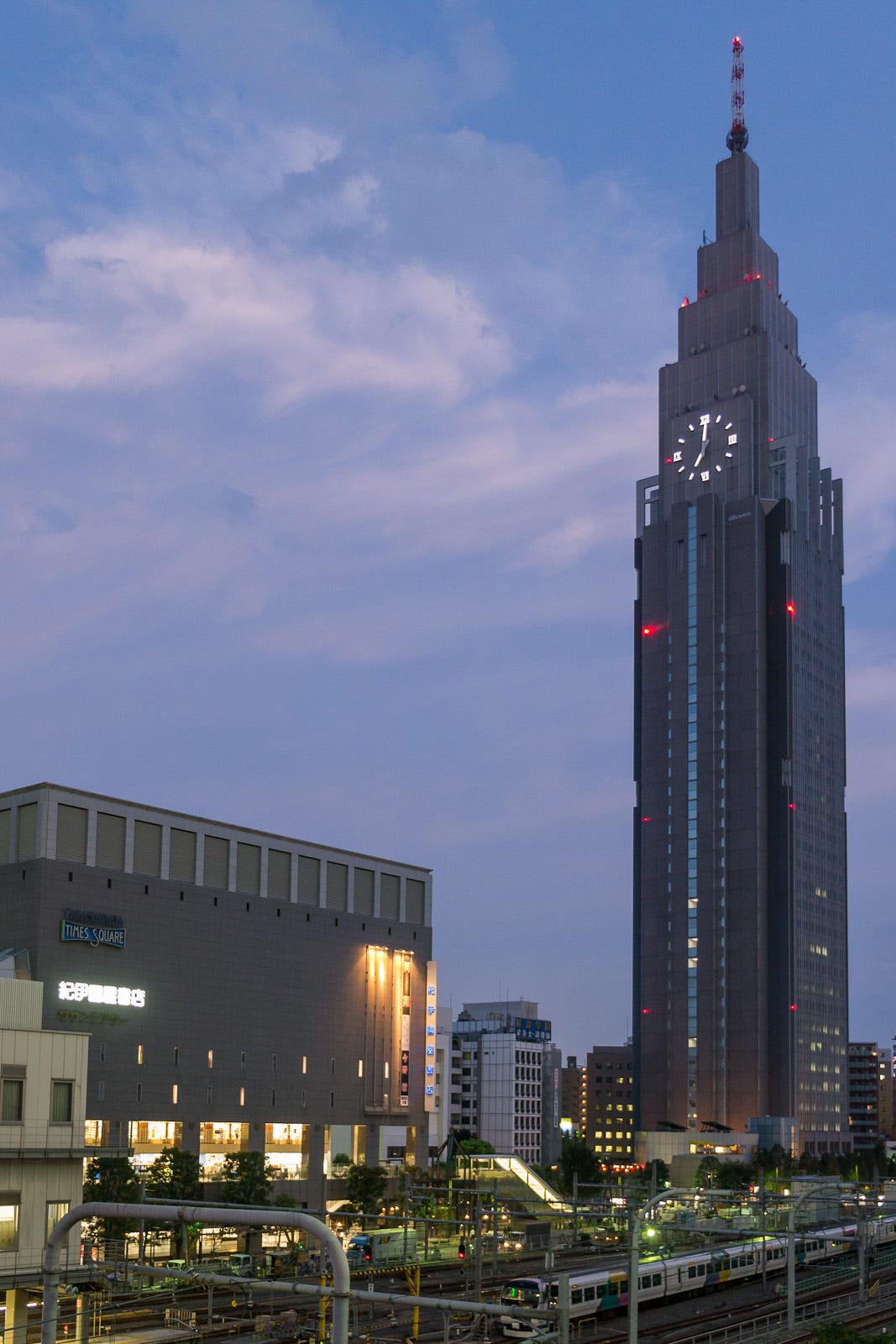 (the ntt docomo yoyogi building in shinjuku, tokyo, japan. via wikimedia commons)
welcome to issue #11 of "tusk is better than rumours," a newsletter featuring primers and album rankings of experimental and 'outsider' musicians. a̶r̶t̶i̶s̶t̶ ̶p̶r̶i̶m̶e̶r̶s̶ ̶a̶r̶e̶ ̶p̶u̶b̶l̶i̶s̶h̶e̶d̶ ̶e̶v̶e̶r̶y̶ ̶s̶e̶c̶o̶n̶d̶ ̶a̶n̶d̶ ̶f̶o̶u̶r̶t̶h̶ ̶m̶o̶n̶d̶a̶y̶,̶ ̶a̶n̶d̶ ̶o̶n̶ ̶t̶h̶e̶ ̶f̶i̶r̶s̶t̶ ̶a̶n̶d̶ ̶t̶h̶i̶r̶d̶ ̶m̶o̶n̶d̶a̶y̶s̶ ̶i̶ ̶p̶u̶b̶l̶i̶s̶h̶ ̶a̶ ̶v̶a̶r̶i̶e̶t̶y̶ ̶o̶f̶ ̶a̶r̶t̶i̶c̶l̶e̶s̶ ̶r̶a̶n̶g̶i̶n̶g̶ ̶f̶r̶o̶m̶ ̶l̶a̶b̶e̶l̶ ̶a̶n̶d̶ ̶g̶e̶n̶r̶e̶ ̶p̶r̶i̶m̶e̶r̶s̶ ̶t̶o̶ ̶i̶n̶t̶e̶r̶v̶i̶e̶w̶s̶ ̶t̶o̶ ̶g̶u̶e̶s̶t̶ ̶w̶r̶i̶t̶e̶r̶s̶.̶ actually you'll notice this is the fifth monday so uhh let's just say that on alternating weeks i do the artist primers and then on off-weeks i do the other stuff.
this week is a new installment of a series called "when and where," which will appear semi-frequently and provide a guide to the music of specific times and places. today we're focusing on "onkyo," which is a form of very quiet improvisation that grew out of a very specific time and place: the tiny venue called "off site" in tokyo, from 2000-2005.
sign up to receive the newsletter if you haven't already! and follow us on twitter @tuskisbetter! and tell a friend! also you can reply to these emails or write to tuskisbetter@gmail.com.
---
see that giant skyscraper up there? that's the docomo yoyogi building in shinjuku, tokyo, japan. it houses technical equipment for a cell phone company. and the smaller and uglier building is takashimaya times square, a 16-story shopping mall. for a brief period from 2000-2005, this neighborhood was home to one of the most important and contentious movements in japanese music, called "onkyo," which very roughly translates to "sound." but onkyo didn't derive from grey industry or dead-eyed consumerism as this setting would suggest. instead, it came out of one small bare white room, approximately 6'x18', called "off site." the venue doesn't exist anymore—it was built out of cheap plaster walls and was set for demolition anyway—but while it was there, it provided a counterpoint to the hustle and bustle of its hyperurban surroundings.
onkyo is quiet music. very very quiet music. "onkyo" translates as "sound" only very loosely; more specifically it refers to acoustic phenomena as they relate to space, for instance in the sense of acoustical engineering. it connotes an intense attention to the minute details of sound. david novak writes in his article "playing off site: the untranslation of onkyo" that
The genre name onkyo began as a fragmentary reference to a local subset of the Tokyo underground. Suzuki Yoshiyuki and others told me that the term was first used at a small record shop in the West Tokyo neighborhood of Koenji, called Parii-Pekin (Paris-Peking). In that store, onkyo was used to identify the minimalist sound of electronic music recordings released on the tiny Tokyo label Musica Transonica, which simply did not seem to fit into any other section of the store. At this early stage, local critics wrote about onkyo as an approach to sound and its effects in listening. Rather than naming a new musical genre—onkyo as the "sound" of a certain group in a certain place—onkyo described a "sound" that demanded a new kind of listening. (43)
the original off site trio consisted of toshimaru nakamura, tetuzi akiyama, and taku sugimoto. they had been hosting a series of very quiet improvised music concerts at a bar called bar aoyama, which was next to a highway. the tiny off site venue seemed a better fit, so they moved there and local music critics began making connections between the "onkyo" designation for minimalist music and the new happenings in the shadow of the docomo yoyogi building.
off site was the downstairs half of an art gallery owned by ito atsuhiro and ito yukari. it was a room that could hold maybe fifteen people. despite being in a commercial district there were houses with thin plaster walls all around it. this meant that sounds from outside couldn't be kept out, but also that the musicians couldn't play loud enough to drown them out, as this would upset the neighbors. so they let the sounds in, sometimes even keeping the door open on purpose. street vendors, traffic, and the chatter of pedestrians became a part of the music. and because there wasn't much of a crowd, everybody could sit quietly and focus on whatever small sounds the musicians made. every rustle and creak and buzz and hum was important, but equally important were the silences that invited passersby to become unwitting collaborators.
off site became a fashionable go-to spot for the international group of improvisers who grew up during and after the british band amm's rejuvenation of improvised music in the 1960s (look for an amm primer soon, btw). but there were crucial differences between this new japanese improv and that practiced in england, germany, and elsewhere. whereas improvised music in the tradition of amm relied on a back-and-forth between musicians and a large dynamic range, onkyo at off site made both taboo. instead of a call-and-response, musicians imagined themselves playing solo in a room that happened to include other musicians who were also playing solo. as toshimaru nakamura told novak, "when i play with other musicians, i don't play with them, i play with the space including this musician—not directly human to human. if you're a musician, okay, let's play together. but i don't play with you—i play with all of the elements around you, around us" (46). the other change was in dynamics—whereas a big shocking clamorous hi-hat hit or saxophone blast could interrupt an improvisation in a productive way for most musicians, any such loud noise was verboten within the confines of off site. the venue's restrictions made it a desirable place to test one's chops for some musicians, but it turned others off with its seeming pretension and exclusivity.
the word "onkyo" was never translated into english, because it doesn't quite make sense to do so ("sound"? "sound music"?). so the genre's japaneseness has followed it around the globe, forever linking this form of quiet improvised music to the specific local setting from which it arose. this has led to problematic tendencies among western critics to associate onkyo with aspects of japanese culture that superficially share its focus on quietude and meditation, such as zen, tea ceremonies, or bonsai. however, international musicians practice similar techniques of sound manipulation—think of the simultaneous rise of lowercase via steve roden's album Forms of Paper—while japanese artists themselves often disavow any connection between themselves and the larger japanese culture, or even the label of "onkyo" itself. they made quiet music, they insist, because they inhabited a quiet space.
still, a group of japanese musicians will be forever linked with this moment and this place. the trio of nakamura, akiyama, and sugimoto were joined with the presumptive leader of the movement, otomo yoshihide, whose long involvement in extreme music helped foster the connections that made the local go global. sachiko m, who plays with yoshihide in the improvisatory duo filament, was another particularly active member of the collective, while ami yoshida, utah kawasaki, and aki onda also played prominent roles. true to the collaborative nature of modern improvised music, these musicians played and recorded with each other and a rotating cast of local and international guests at off site. the complex interactions between members of the group were carefully documented by yoshiyuki suzuki's label and webzine improvised music from japan.
below i've picked a few albums and performances that highlight the main performers in the onkyo scene. then scroll to the bottom (while reading everything please) for an mp3 album that i have lovingly crafted of some standout onkyo tracks.
Filament -
191117
(2019)
otomo yoshihide and sachiko m still perform as filament. this concert is from just a few months ago, last november (which feels like years amiright). because off site no longer exists, and also because we're trapped in our homes due to the plague, this video is as close as we can get to being there. throw it up on a projector and sit on the floor and you'll have a pretty good simulation of an evening at off site. watch as yoshihide and sachiko m perform next to one another (not really with one another), making very quiet noises. a youtube commenter on this video unknowingly paid a great compliment to them when he said "i thought my garbage fell over"—if their performance blends in that naturally with the sounds of your environment, you know it's pure uncut onkyo.
Sachiko M / Toshimaru Nakamura / Otomo Yoshihide -
Good Morning Good Night
(2004)
the trio of sachiko m and nakamura and yoshihide released what may be remembered as the quintessential onkyo album. as Floral Shoppe is to vaporwave so this is to onkyo. as Loveless is to shoegaze so this is to onkyo. as the ccr trifecta of Bayou Country/Green River/Willy and the Poor Boys is to swamp rock so this is to onkyo. this the litmus test: head on over to rateyourmusic and read some reviews and you'll find that people either love it or hate it. user princezaleski, who gets it, calls these tracks "perfect ragas of the new millennium." user 77ships, who absolutely does not get it, complains that "i was going to give this 3 ½ stars but the fact that i almost fell asleep whilst listening to this made me deduct ½ star from it." user zwts, who gets it but doesn't know that he gets it, says "after a while, it's hard to tell where the tinnitus ends and the music begins."
Toshimaru Nakamura -
Vehicle
(2002)
nakamura uses a "no-input mixing board" to make his tunes. that's just a mixing board where he plugs the output into the input. theoretically this falls right in line with the philosophy behind onkyo, as there is no sound except for the machine and relatively little interference from the musician. however, his classic album Vehicle is unironically a banger even outside of onkyo standards. he says that he "sculpts feedback" rather than composes songs, but here he's sculpted something that wouldn't feel out of place at a club. apparently he was delirious with fever inside his apartment when he made this album, which makes it weirdly appropriate for this moment, i suppose.
Sachiko M -
Sine Wave Solo
(1999)
sachiko m uses what she calls an "empty sampler" which is similar to nakamura's no-input mixing board. she takes a sampler with no samples in it and summons piercing tones, creating a sort of dream house for the not-easily-annoyed. if you can get over the initial shock at high-pitched sounds (which i'm convinced, with no evidence, is learned rather than innate) then this first provides a sort of heart-in-the-throat thrill, then recedes into normal background sound. THEN the real treat is when you listen for i dunno ten minutes or so and then turn it off. the rest of the world suddenly sounds gorgeous, as if the high-pitched tones cleanse your mind and convert everyday sounds into hi-fi.
Taku Sugimoto -
Live in Australia
(2005)
recorded onkyo like nakamura and sachiko m's often leans into technology, creating the misapprehension that the purpose of onkyo is to explore or critique machine music (for that, you should listen to the related but very different work of ryoji ikeda). really, onkyo is about a way of listening, whether its sounds are electronically or acoustically derived. that's why taku sugimoto's guitar work is so welcome. in this performance, you hear a noisy background of indeterminate origin (sampled ocean sounds?) that slowly dissolves into silence. over top of this, if you pay very close attention, you can hear sugimoto pluck a few notes from his guitar once every few minutes. there is something cage-ian about this performance, as much of its interest actually arises from sounds the audience makes. but rather than cage's "silence," the operative term is the japanese concept of "ma," which is the space between notes, that space which is created in and through the decay of a note. sugimoto got fed up early with onkyo and off site, vowing as early as 2003 never to play there again. instead, he ventured off on his own even more extreme minimalism, which this concert exemplifies beautifully.
---
alright i promised you an mp3 album and by god you'll get one. here is the Tusk Is Better Guide to Onkyo, featuring live and album tracks by key players in the scene. i even sequenced it in a way that sort of makes sense. but get it quick because the download link expires in one week (4/6/20).
alright everybody stay safe out there and reach out to me at tuskisbetter@gmail.com for requests or recommendations or just to chat. i know things are tough on account of the apocalypse and all but if onkyo can teach us anything it's that even small quiet gestures made within a supportive community can have a far-reaching and long-lasting impact. fuck to docomo; off site forever.
see you next week.