Discover more from Tusk Is Better Than Rumours
primers and album rankings of experimental musicians. all rankings guaranteed definitive and all opinions guaranteed correct.
guest writer: marshall gu on leo ornstein
a composer who walked away from fame in the 1920s--but kept composing for another sixty years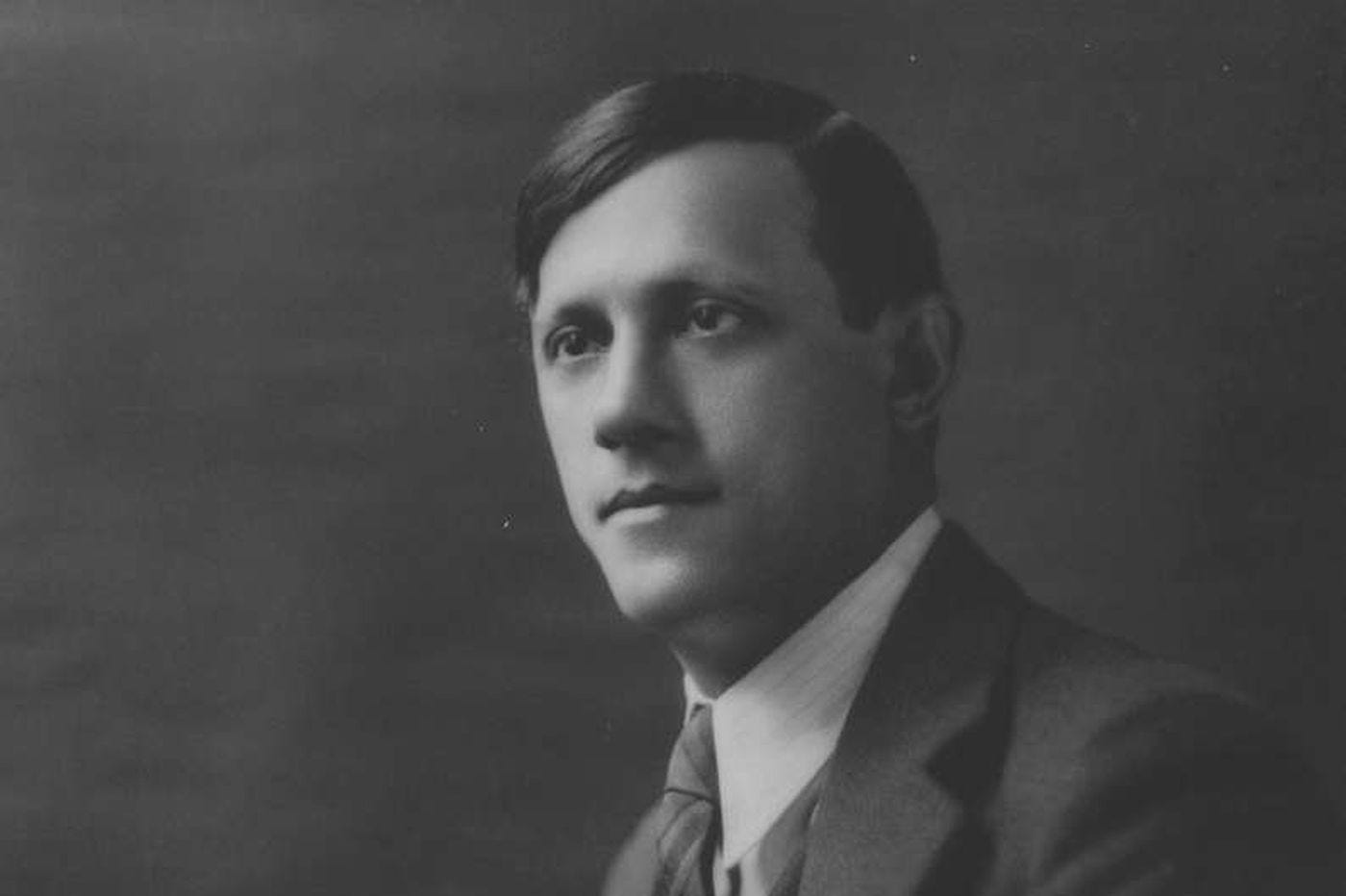 (artist image from the philadelphia inquirer)
welcome to issue #35 of "tusk is better than rumours," a newsletter featuring primers and album rankings of experimental and 'outsider' musicians. artist primers are published every other monday, and on off-weeks i (occasionally) publish a variety of articles ranging from label and genre primers to interviews to guest writers.
this week features the second appearance of guest writer marshall gu, who has written for popmatters, pretty much amazing, and tone glow. today he covers the career of the little-known composer leo ornstein, who was one of the biggest names in american avant-garde music before he decided to pack it up and escape the limelight in the 1920s. he kept composing though, eventually becoming the oldest published composer of all time in 1990 (until the record was beaten again). it's a strange and wild story, and gu leads us through it (musical) piece by piece.
sign up to receive the newsletter if you haven't already! and follow us on twitter @tuskisbetter! and tell a friend! also you can reply to these emails or write to tuskisbetter@gmail.com.
---
In his review of Canadian pianist Marc Andre-Hamilton and the Pacifica Quartet's CD of Leo Ornstein performances, Patrick Rucker wrote in the The Washington Post that "To the end, Ornstein remained a pragmatist. He once said that if his music were any good, it would survive; if not, it would be deservedly forgotten."
It is abundantly clear to me that Ornstein's music has been forgotten. Once upon a time, he was mentioned in the same breath as Stravinsky and Schoenberg: he formed a crucial part of America's claim to the avant-garde throne decades before John Cage and the minimalists. Never mind, of course, that Ornstein was born in Kremenchuk, Ukraine in 1893, and his family only fled to New York to escape antisemitism in 1907. Tellingly, in 1917, one critic, James Huneker, wrote "I never thought I should live to hear Arnold Schoenberg sound tame, yet tame he sounds—almost timid and halting— after Ornstein who is, most emphatically, the only-true, genuine Futurist composer alive."
His earliest compositions had attention-grabbing names like "Suicide in an Airplane" and "Wild Men's Dance," a practice that he first abandoned in favor of more standard titles and then returned to decades later in his old age. But they were titles that suited his trademark style of piano playing. Nowadays, if he is remembered at all, it may be because a character is named after him in Dark Souls (who drops a 'Leo Ring' upon death), less than because of his music. But what he should be best remembered for is being one of the first major composers to incorporate tone clusters, which are chords in which adjacent tones in a scale are placed together to sound 'a-musical.'
In Carl Van Vechten's Music and Bad Manners (1916), Ornstein described a concert in 1914 as follows, "At my second concert, devoted to my own compositions, I might have played anything. I couldn't hear the piano myself. The crowd whistled and howled and even threw handy missiles on the stage… but that concert made me famous."
And then, in the 1920s, Leo Ornstein simply walked away from the conversation and into obscurity. He took up a teaching position at the Philadelphia Musical Academy. He became a family man. Whereas he once played to packed houses, he never performed in public again, and would only return to composition many years later—composing pieces that he never intended to publish.
Despite having lived over a hundred years—Kyle Gann wrote about Ornstein in The Village Voice as a 'tri-century man,' the rare composer who lived in three centuries—Ornstein was not exactly prolific, and often only wrote for the piano, the instrument he excelled at playing himself. Moreover, given his obscurity, he is very rarely performed.
Here is a guide on the essentials and how you can hear them:
---
Early solo piano pieces (1913-1920)
Suicide in an Airplane (1913)
This piece's bleak title is earned. "Suicide in an Airplane" starts with a rapid, oscillating bass to simulate the sound of a plane taking off, and once it reaches cruising altitudes, Ornstein deploys the aforementioned tone clusters to represent the sonic death; suicide at 35,000 feet in the air. Being his first composition, and with a title that easily piques an audience's curiosity, "Suicide in an Airplane" has been performed a few times. I personally prefer Janice Weber's take on Piano Sonatas No. 4 & No. 7 (2002) because she emphasizes the taking off and subsequent landing of the plane.
Another violent song, although much less explicitly so in the title. The tone clusters on "Wild Men's Dance" are much more striking, particularly because this song just drops you into them with no formal introduction, and also because the clusters are much closer together. Janice Weber also performs a version on the same disc, but seek out Steffen Schleiermacher's version on The Bad Boys! (1994) where the staccato rhythm is slightly more emphasized.
Though a futurist in his early years, Ornstein would start looking to the past for inspiration as early as this piano sonata. Even though the chords themselves are often dissonant, it is notably broken out into four movements, including the slow third that ends in the fast finish, as if it were a classical period sonata. If you listen to his solo piano works chronologically, then the first movement's section marked Con moto e passione (below) will definitely surprise you. Here, over sustained bass chords, the right hand plays a descending, decidedly non-clustered series of chords in triplet-form to ring out what is straight-up melody.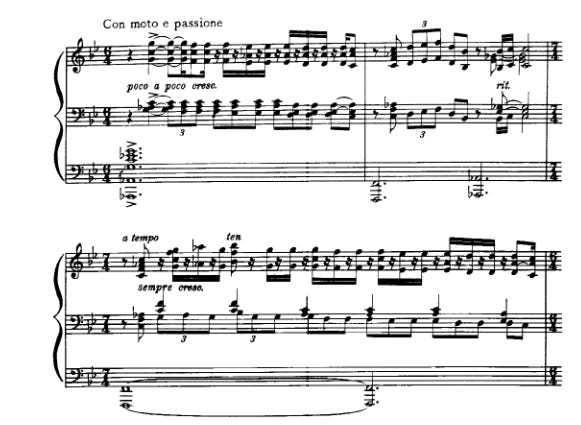 Writing for the Village Voice, Kyle Gann wrote lavishly about "Impressions of the Thames" that if it is "Debussyan in its textures, [it] used more prickly chords than Debussy ever dared, and also clusters in the treble range and a low pounding that foreshadowed Charlemagne Palestine, yet modulated among the three with a compelling sense of unity." At over 7 minutes in performance, it is twice the length of his non-sonata pieces discussed so far which lets him brood much more. In fact, the song is pure atmosphere, the now trademarked tone clusters clanging briefly as they are summoned only to immediately dissolve back into the aether.
Chamber sonatas (1915-1920)
Violin Sonata Op. 31 (1915)
This violin sonata is Leo Ornstein's first non-solo piano composition. Consider this violin sonata one long sustained build-up to a climax that never comes. The third movement, marked vivace ma non troppo, is indeed lively in its staccato violin and piano notes, but it still feels like part of the build-up. And then the final movement, grave, halts the tempo.
Another 4-movement sonata, written in the same year as his piano sonata 4. Contrast the cello sonata to the violin sonata: whereas the violin sonata was mostly atonal and dissonant, the cello sonata is melodic, downplaying the dissonance. However, insofar as it is a more formal exercise in long-form composition, worth criticizing is that the transitions within each movement are non-existent and not even worked towards. Note, for example, how the scherzo third movement's first part just suddenly ends, and after a pause, the slow section begins. Thus, a proposition: Ornstein was best in bursts, perhaps not surprising for the tone cluster composer.
Unlike his other sonatas, there is only one movement to Ornstein's second cello and piano sonata, although allegedly there were two other movements. Don't let the 'unfinished' tag fool you, then: the second sonata is a surprisingly lyrical early composition, even with parts of the fourth piano sonata in mind. In fact, Ornstein's wife, Pauline Mallet-Prevost, has described it as 'one long glorious melody line,' and that is accurate of the sustained, East Asian-inspired cello arcs. The melody is beautiful, but the composition wouldn't be nearly worth writing home about without the rich piano harmonies adding both color and density.
Both cello sonatas were performed by Joshua Gordon (cello) and Randall Hodgkinson (piano) on Leo Ornstein: Complete Works for Cello and Piano (2007).
Late-period (1924-1990)
Waltzes (1958-1980)
A set of 17 waltzes in which you can hear Ornstein's tone clusters in 3/4 time. Most surprising is the seventh waltz near the middle of the set, which sounds like a combination of the two major impressionist composers: a melodic fragment from Erik Satie expanded through the more exotic, sensual playing of Debussy. One can find the full set of waltzes performed by Arsently Kharitonov on Ornstein: Piano Music, Vol. 2 (2013).
One of many solo piano loosies that Leo Ornstein wrote around this time, "A Morning in the Woods" may have sounded passé had Ornstein remained in the limelight, but instead, it sounds quite charming. It's another case where the music reflects the title although I would add a qualifier: "A Morning in the Snowy Woods." This is the opening song to the Janice Weber collection I already spoke of, so instead I will recommend the performance on Sarah Cahill's Leo Ornstein: Fantasy and Metaphor (2008).
Having written this when he was over ninety years old (there are conflicting accounts as to his year of birth), at the time this was conceived, it made him the oldest published composer ever, a feat that has since been passed by Elliot Carter. The titles of the sonata's movements and various parts are very reminiscent of the eccentric Satie. For example, the first movement is titled "Life's Turmoil and a Few Bits of Satire." It is not just the titles that recall Satie either—the second part of the second movement," A Lament for a Lost Toy," sounds inspired by Satie's nocturnes.
Back to Ornstein's point, then: was his music any good? Or does it deserve to be forgotten? After listening to these compositions, you tell me.
-Marshall Gu
---
dispatches of "tusk is better" will always be free but donations are welcome here: